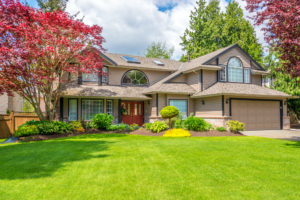 Green Thumb Lawn Care is your source for up-to-date knowledge on lawn care products and treatments in the Albany, Schenectady, and Troy area. Not everyone has a "green thumb" and the time and expertise to determine what to do to maintain a beautiful lawn. We live and breathe lawn care and know the soil and issues specific to our area from Delmar to Niskayuna and Colonie to Glens Falls and everywhere in between.
Green Thumb Lawn Care has been locally owned and operated since 1983. Owner Karen Wright, and her team of lawn experts have 100 combined years of experience in the lawn care industry. We know lawn care and take pride in providing quality service enhanced with unmatched expertise.
Our Approach
Our year-round service provides all the care necessary to grow a thick, green, and healthy lawn whether you live in East Greenbush or Saratoga. In general, we treat a customer`s lawn five times each year with a balanced fertilization. These five main treatments bring lawns back to life after the cold winter, ensure a healthy green lawn through the spring, summer and fall, and put your lawn to bed for the winter.
Although many lawns in the Greater Capital Region area face similar problems, we understand that each lawn is unique. Your program will be tailored specifically to fit your lawn`s needs. Along with the main treatments, crabgrass, weed, and insect controls are applied in preventative and curative measures as necessary. Grub control is also included at no additional charge.
Green Thumb uses a mix of both liquid weed controls and granular fertilizers in order to achieve maximum results. Additional service calls are free! And unlike many other lawn care companies, we do our very best to be proactive. Often, we will stop by just to check on the progress of your lawn and ensure that our treatments have been effective. This also gives us a chance to assess if there are any issues that need to be addressed before they become a concern. Of course, you, the homeowner, still see your lawn more often than we do, so if you see something that you don`t like, or if you have questions, we encourage you to contact us right away!
We want you to love your lawn!